Software Application Development has become a necessity for business and organizations of all types to remain valuable to those they serve. Business moves faster than ever in the digital world. To respond to new opportunities and changing customer demands you need to be able to build, adapt and scale applications quickly and easily.
Our process for software application development provides all the tools needed to deliver new and enhanced enterprise applications faster, more reliably and with less cost than most of our competition.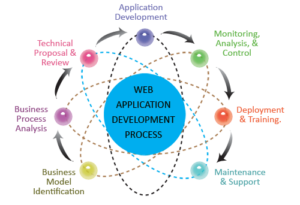 Mobile Apps for cell phones and tablets are almost becoming an expected tool of anything and everything we do on a daily basis. If you have the ability to access a computer based website to accomplish a task, it is now expected that of course there should be a mobile app as well. We have great capabilities in this area and have the ability to develop mobile apps in both Android and IOS for almost any application.
Our mission is to deliver your organization a cost effective Mobile App that will meet the goals and objectives that are agreed upon.